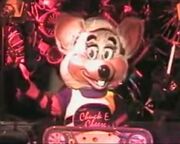 The Awesome Adventure Machine is a stage concept that was tested in 1996 at the Montfort Drive location in Dallas, Texas, replacing a 3-Stage.[1] It is referenced in Chuck E. Cheese in the Galaxy 5000 as well.
The concept was based on the Awesome Adventure Machine, a device that was used in showtapes from 1996-1997. The stage featured a single Chuck E. Cheese animatronic at center stage, with a large monitor on each side. The setup also utilized special showtapes that used different audio tracks to make use of the stage's unique features. The footage used in the showtapes made use of articulated costumes with animatronic mouths and eyes, which were introduced in the August 1996 show, which also introduced the Awesome Adventure Machine itself. The 22 movement Chuck E Cheese animatronic was made by Garner Holt.
From a technical standpoint, the show operated using laserdiscs, with sound provided by a Dolby integrated seven-channel surround sound system. The video monitors were rear-projection.[1]
In early 1998, the Montfort Drive, Dallas, Texas location was replaced with a Studio C Alpha[2].
Characters
Edit
Along with Chuck E. Cheese the Awesome Adventure Machine contained three side characters that surrounded him in the machine on the showtapes produced between 1996 and 1997[1]. They were:
Brainivac - a combination of computers, calculators and a vacuum cleaner who acted as Chuck E.'s first officer; calculating coordinates and keeping the command module tidy.
Dusty - Brainivac's side kick. He was a mechanical dog-like device that sniffed out new data for the Awesome Adventure Machine's main computer.
O.R.B.I.S. - (Onboard Radar and Bearings Intelligence System), the Awesome Adventure Machine's navigational tracking system that keeps Chuck E. on course and out of trouble. He also provided the time and temperature.
Although Chuck E.'s friends weren't on the stage as animatronics, the monitors provided them to interact with Chuck as they were in the monitor in mascot costumes. It had all complete characters, with Helen Henny, Munch, Jasper T. and Pasqually.
References
Edit
External links
Edit