Billy Bob Brockali, or, Billy Bob for short, was the mascot of ShowBiz Pizza Place. He was one of three bears and two guitar players in The Rock-afire Explosion (the other being Beach Bear as the other guitar player and both him and Choo-Choo being the other two bears). With the exception of a period in the mid 1980s where ShowBiz Pizza Time produced its own Rock-afire showtapes to save money, Billy Bob has been voiced by Aaron Fechter.[1][2]
Development
Edit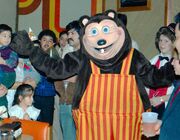 Billy Bob was derived from Billy Wilbur, a character in The Hard Luck Bears animatronic show.[3] Billy Bob's first appearance at ShowBiz Pizza Place was as a walk-around character at the first ShowBiz location at Antioch Shopping Center in Kansas City, Missouri. The character was named after two people; ShowBiz Pizza founder Bob Brock, and Creative Engineering artist David "Billy Bob" Irvin. At the request of Stan Emerson, who worked for the advertising agency hired by ShowBiz, Billy Bob was given red and yellow overalls, the colors of ShowBiz Pizza.[4]
Billy Bob's first appearance as an animatronic character was with the launch of The Rock-afire Explosion. Billy Bob originally spoke with a heavy country accent, but this was later softened.[4]
Billy Bob's stage, shared with Looney Bird, was designed to resemble a gas station. It contained elements such as a backdrop with "Smitty's Super Service Station,", a gas pump, and an oil barrel.[4] Some skits were written around the Smitty's theme, discussing Billy Bob's invention of gasohol (also called "Goofy Gas"), an alternative for gasoline that was also drinkable.[5]
In the later years of ShowBiz Pizza Place, Billy Bob's stage was redesigned as "ShowBiz Pizza Campground". In this new stage design, the Smitty's backdrop was removed, Looney Bird's oil barrel was repainted green, the trees from center stage were relocated to stage left behind Billy Bob, and a new lamppost with a sign reading "ShowBiz Pizza Campground", in the style of the later logo, was installed. This stage was exclusive to ShowBiz Rock-afire installations. Rock-afire shows at other restaurants retained the Smitty's backdrop.[6]
Concept Unification
Edit
During Concept Unification, which occurred at most of the ShowBiz Pizza locations between 1990 and 1992, Billy Bob's animatronic was completely removed from the stage. After these events, his animatronic was most likely either destroyed, put into storage, or sold to a collector.
It should be noted that Pasqually and his drum set were moved to Billy Bob's former position on the stage. Additionally, on the Concept Unification Prototype Stage, Billy Bob's animatronic was removed entirely.
References
Edit