CEC Entertainment, Inc. is the company that owns and operates Chuck E. Cheese's restaurants. The company was previously known as ShowBiz Pizza Time, Inc. before taking its current name in 1998.
Corporate history
[
]
Chuck E. Cheese's, originally named Chuck E. Cheese's Pizza Time Theatre, was founded by Atari founder Nolan Bushnell.[1] Bushnell's experience in the amusement park industry, as well as his fondness of The Walt Disney Company, was influential in the conceptualization of the Pizza Time Theatre concept.[2] The first location opened in San Jose, California in 1977, and was labeled as the first family restaurant to integrate food, animatronic characters, and an arcade.[1][3] In 1978, Bushnell purchased the Pizza Time Theatre concept from Atari's then-corporate parent, Warner Communications.[4]
Franchising
[
]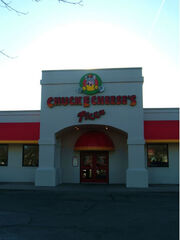 As the restaurant became increasingly successful, he began to franchise, resulting in a co-development agreement between Bushnell and Bob Brock of Topeka Inn Management in 1979. The agreement handed Brock exclusive franchising rights for opening Pizza Time Theatres in sixteen states across the southern and midwestern United States,[4] while also forming a company subdivision, "Pizza Show Biz", to develop the Pizza Time Theatres.[4]
ShowBiz Pizza Place
[
]
Main article: ShowBiz Pizza Place
In November 1979, Brock met Aaron Fechter of Creative Engineering, Inc. Concerned that Fechter's animatronics would be too strong a competition for Bushnell's work, Brock requested that Bushnell release him from the co-development agreement, citing misrepresentation.[4] In December 1979, Brock and Fechter formed "ShowBiz Pizza Place Inc", severing Brock's business relationship with Bushnell.[4][5] ShowBiz Pizza Place was conceptually identical to Pizza Time Theatre in all aspects except for animatronics; which would be provided by Creative Engineering.[4] ShowBiz Pizza Place opened its first location on March 3, 1980, in Kansas City, Missouri.[3]
Upon the opening of ShowBiz Pizza Place, Bushnell sued Brock and Topeka Inn Management over breach of contract.[4] Brock immediately issued a counter-suit against Bushnell, citing misrepresentation.[4] The court case began in March 1980, eventually settling out of court; with ShowBiz agreeing to pay Pizza Time Theatre a portion of its profits over the following decade.[4] During this period, Topeka Inn Management also changed its name to Brock Hotel Corporation and moved its headquarters to Irving, Texas.[4] Both restaurants experienced increased success as the video game industry became more robust;[4] and to maintain competition, both franchises continually modified and diversified their animatronic shows.
Merger
[
]
In 1981, Pizza Time Theatre went public; however, the evolving video game industry resulted in significant losses for Pizza Time Theatre; losing $15 million in 1983, and by 1984, Bushnell's debts were insurmountable, resulting in the filing of Chapter 11 bankruptcy for Pizza Time Theatre Inc. ShowBiz then bought the foundering company, recreating itself as ShowBiz Pizza Time Inc.[3]
Restructuring
[
]
After the merger, both restaurants continued operating under the different titles, while major financial restructuring had begun,[3] eventually becoming publicly traded in 1989, with sales increasing by 8.3%.[3][6] During this period, Creative Engineering began to sever ties with ShowBiz Pizza Time (they officially left the company in September 1990), eventually resulting in the unification of its mixed characters. By 1992, all restaurants assumed the name of Chuck E. Cheese's Pizza.[7] However, the name was changed to Chuck E. Cheese's in 1994 during a redesigning of the concept.[3] In 1998, the company renamed itself CEC Entertainment, Inc. Part of this renaming was related to a move from the NASDAQ to the NYSE.[3][6] In 1999, CEC Entertainment, Inc. bought out competitor Discovery Zone.[8] Chuck E. Cheese's celebrated its 30th anniversary in 2007.[3] Currently, there are 590 open locations throughout North America, South America, and the Middle East.[6][9]
Mascot redesign
[
]
In 2012, CEC Entertainment announced that their mascot would receive a redesign.[10] Jaret Reddick, lead singer of the musical group Bowling for Soup, was hired to become the new voice of Chuck E. Cheese,[11] after having been voiced by Duncan Brannan for 19 years. The Redesign is now animated in CGI. The replacement of Brannan with Reddick was met with backlash, but the company issued the following statement: "Brannan was not fired from Chuck E. Cheese's, rather we simply chose to utilize new voice talent for the original music we have written as part of a TV advertising campaign in partnership with The Richards Group. On several occasions prior to the release of Chuck E.'s new single last week, we communicated to Brannan that his primary responsibilities with our in-store entertainment group would not change. There is still plenty of opportunity for Duncan to provide more of his voice talent and services for Chuck E. Cheese's in the future if he chooses to do so."[12]
References
[
]
See also
[
]
References
[
]
External links
[
]