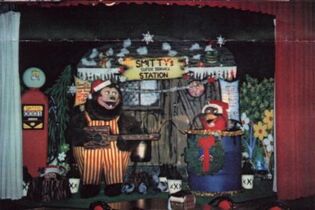 Circus Pizza was a restaurant with numerous locations in Minnesota. Locations consisted of Blaine MN, Brooklyn Park MN, Burnsville, MN, Edina MN, New Hope, MN, and West St. Paul MN. Every Circus Pizza location featured The Rock-afire Explosion alongside a clown mascot designated, Bumper The Clown. The Edina Circus Pizza location featured The New Rock-afire Explosion. The West St. Paul location was converted to a Chuck E. Cheese after Circus pizza was acquired by CEC Entertainment August 1999 [1]. The West St. Paul location recently closed perpetually, albeit it had featured a Studio C Alpha stage.
The Edina and Blaine locations were also converted into Chuck E. Cheese's.
All locations, except Edina, were former ShowBiz Pizza Place restaurants that were franchised and dissented against Concept Unification by choosing to leave corporate. All locations removed their 3-stage Rock-afire Explosion or new Rock-afire Explosion and replaced it with a brand new Studio C Alpha after they were bought out.
References
[
]