Jurassic World: Dominion Dominates Fandom Wikis - The Loop
Play Sound

Fatz Geronimo is the keyboard-playing gorilla in The Rock-afire Explosion. According to the 1984 "Senior Citizens" showtape, Fatz was born and raised at the Audubon Zoo in New Orleans, Louisiana.
History
Early years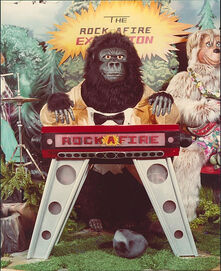 Fatz's earliest incarnation was as Fats Gorilla in the Wolf Pack 5. This version of Fatz was positioned sideways and played a piano rather than a keyboard. Another version of him appeared in The Hard Luck Bears and was referred to by Mama Granbags as the "stupid gorilla". When The Rock-afire Explosion was developed, his name was changed to Fatz (most likely for trademark purposes), and the piano was replaced with a keyboard (later called the "Tune Machine"), though he had a smaller role in earlier showtapes. His first Rock-afire animatronic had a larger head and wore a ring on his right hand. According to a 1982 survey, he was the most popular character in most age groups, which led to him having a bigger role in showtapes. He later became the leader of the Colander Head Movement. He later began to make announcements and adopted Antioch as his pet.
Personality
Fatz often saw himself as very important, such as crowning himself Grand Poobah of the Colander Movement, or announcing his candidacy for President of the World. Despite this, Fatz had a mellow personality and would often crack jokes with the rest of the band. While Fatz generally got along with the other band members, he would often get into fights with Rolfe, even threatening to break Rolfe's neck over an insult.
Cyberstar
During the Cyberstar years, near the end of the Rock-afire's tenure at ShowBiz Pizza, Fatz's role dwindled once again, yet he became the master of ceremonies in addition to the keyboardist.
Concept Unification
During Concept Unification, which occurred at most ShowBiz Pizza locations between 1990 and 1992, Fatz's strong center-stage presence was kept intact and assigned to Mr. Munch, who his animatronic converted into during the conversion. His keyboard was also kept intact except for the "Rock-afire" front panel, which was changed.
It should be noted that on the Concept Unification Prototype stage, Fatz's animatronic was originally going to become Pasqually and that his animatronic would have been moved to Stage Right.
Fan Redesign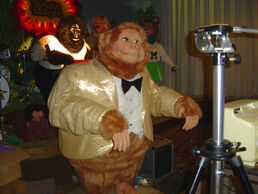 In 2007, Fatz was redesigned by artist and fan Jenn Waitt for use in a new restaurant that was slated to open in the country of Jordan. This new version was altered at the customer's request, as they wanted a friendlier, less intimidating version, so he was redesigned with pale skin and brown fur - making him a monkey instead of a gorilla. He was given the name "J-Fatz" (short for "Jordan Fatz"). The show was never delivered to the customer and the restaurant, J-Fatz's Pizza, never materialized; however, J-Fatz did receive a short cameo in the 2011 film Just Go with It and played with an orange kangaroo along with three other Rock-afire characters, Beach Bear, Dook LaRue, and Mitzi Mozzarella.
J-Fatz appeared at Fright Fest 2018 at Six Flags Fiesta Texas.