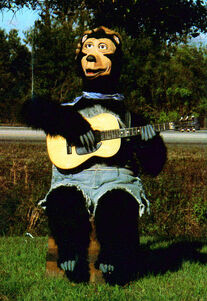 Friendly Freddy was an early animatronic created by Aaron Fechter for Creative Engineering in 1977. He was a black bear with a guitar. Later on, Friendly Freddy was retrofitted to become General Cornelius Bearpatch as part of The Confederate Critter Show, where he was given facial hair and a Confederate soldier outfit. He was found somewhere in 2000 at a warehouse and was later seen on Ebay in 2001.
He was also CEI's first fully animated character. During his first appearance at the IAAPA convention, he could often be found commenting on his "physique" and how well built he was, usually immediately tying in a promotional "song" for him and his "buddies", most likely referring to the other characters put on display by CEI.
There was also a Friendly Freddy installation at the Gaslight Village amusement park in Lake George, New York. The animatronic also preformed with two of the Wolf Pack 5 characters, who were the Wolfman and Fats Gorilla.[1] This same Freddy was later found and is currently undergoing restoration with the rest of the Gaslight Jamboree as of June 2020.
Something else to be noted, would be the fact that Freddy used a windshield wiper motor for his neck-movements, rather than pneumatic cylinders.
Gallery
[
]