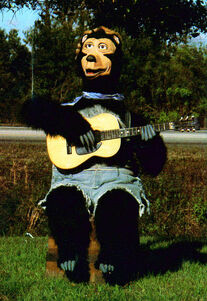 Friendly Freddy was an early animatronic created by Aaron Fechter for Creative Engineering in 1977. He was a black bear with a guitar. Later on, Friendly Freddy was retrofitted to become General Cornelius Bearpatch as part of The Confederate Critter Show, where he was given facial hair and a Confederate soldier outfit. He was found somewhere in 2000 at a warehouse and was later seen on Ebay in 2001.
He was also CEI's first fully animated character
There was also a Friendly Freddy installation at the Gaslight Village amusement park in Lake George, New York. The animatronic also preformed with two of the Wolf Pack 5 characters, who were the Wolfman and Fats Gorilla.[1]