Hot Fudge was an animatronic band that was tested in five Pizza Time Theatre locations. The character names were different at each location and names were chosen in local contests.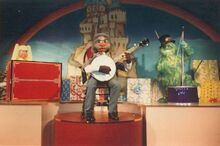 The Hot Fudge shows were only installed in the following locations:
Clawson, Michigan (Characters: Mona, Seymore, Mr. Kootch)
Warren, Michigan
Okemos, Michigan
Warwick, Rhode Island
Danvers, Massachusetts
The animatronics created for the Hot Fudge stage were created by Elnicky Enterprises. They were temporarily installed into new Pizza Time Theatre locations between 1983 and 1984 during a time when there was a shortage of Balcony Stage animatronics for their restaurants during the period of Pizza Time Theatre's bankruptcy period[1].
Stages
Current Stages
Test Stages
Retired Stages