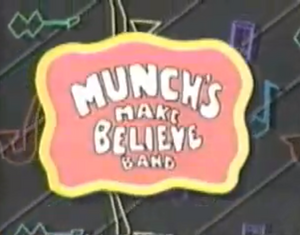 Munch's Make Believe Band
(Chuck E.'s Make Believe Band in some locations or Munch's Party-Time Band[1] in at least one version of the 1-Stage)
is an animatronic band that have been playing at
Chuck E. Cheese's
restaurants since 1988.
Development
Edit
Conceived and made a debut in 1988 as a way to phase out the Rock-afire Explosion without removing some of their desirable elements, Munch's Make Believe Band incorporated the Pizza Time Players in a band-style setup through Concept Unification. This setup, called the 3-Stage (or CU Stage) was installed in most ShowBiz Pizza locations, shortly there after, and took one week to complete.[2] While the construction went on, ShowBiz ran "The Rolfe and Earle Show", a compilation showtape hosted by Rolfe and Earl, that informed guests of the Rock-afire's removal, and later conversion. This showtape was the last Rock-afire tape produced for ShowBiz Pizza.
As sales improved at ShowBiz locations with the CU stage, ShowBiz Pizza Time (the merged company of ShowBiz and Chuck E. Cheese's) decided to bring Munch's Make Believe Band to Chuck E. Cheese's locations, first with the Road Stage, then the 1 and 2-Stages.
Nine years after Munch's Make Believe Band debuted, Chuck E. Cheese's attempted to phase the band out ever since the introduction of Studio C (1997-2009), Circles of Light (2010-2013) and Chuck E. Live Stage (2013-). The reason is the animatronics were becoming increasingly expensive to maintain and, due to lax security, they were (and still are) highly susceptible to vandalism. The CU 1-Stage was introduced to replace 3-Stages in 2010 with it being installed at three locations, which changed the name of the band to Chuck E's Make Believe Band.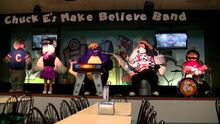 In January 2015, as part of Chuck E. Cheese's 40th anniversary, a remake of the Concept Unification demo skit with the current Chuck E. Cheese puppets and voice actors was produced.
In March 2018 Chuck E. Cheese announced the Munch's Make Believe Band will have their final tour, However on April 3rd, It was announced that It was an April Fools Joke and the band will not be retired.
Characters
Edit
References
Edit
Chuck E. Cheese's

Main Characters
Prop Characters
Screen Characters
Retired Characters
Cabaret Characters
Show Configurations
Stages
Community content is available under
CC-BY-SA
unless otherwise noted.