Jurassic World: Dominion Dominates Fandom Wikis - The Loop
Play Sound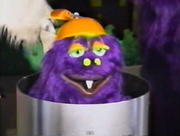 Munch Jr. is a prop character for the "Munch's Make Believe Band" 3-Stage set up at Chuck E. Cheese's. He was placed inside a small metallic barrel between Helen Henny and Mr. Munch on Center Stage. He is a younger version of Mr. Munch with only one tooth and an orange propeller cap. He is believed to be one of Mr. Munch's siblings, as confirmed in "Zorp-Ah-Glorp Dor-Bah is Coming Tonight".
History and Info
[
]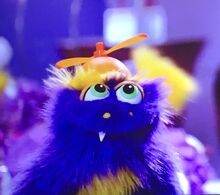 Prior to Concept Unification, Munch Jr.'s animatronic was Choo-Choo from The Rock-afire Explosion. Like Choo-Choo, Munch Jr. never spoke. He would only bounce up and down to the music. He was never mentioned in any show either until December 2019, when he appeared in puppet form in the song "Zorp-Ah-Glorp Dor-Bah is Coming Tonight". The same puppet reappeared in "Happy Birthday LIVE from Chuck E. Cheese and Friends", and "Song Of Summer".
In the mid 1990s, most restaurants started to remove their Munch Jr. animatronics from the stage due to either being vandalized by children or not working properly. His animatronic was removed and his spot on the stage was boarded up and carpeted over. His barrel was also removed. The last known Chuck E. Cheese location that still had Munch Jr. was in Wilmington, North Carolina before its closure on October 13th, 2020 (that show was getting fixed from when their air compressor leaked water into the characters back in mid 2016 at the time before their closure. They had plans to reopen but had to close due to numerous undisclosed reasons). However, a Munch Jr. animatronic still exists. It is owned by a private collector, who shows it at Chuck E. Con.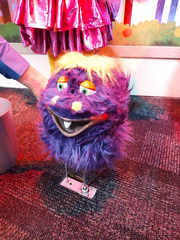 Recently, Charlotte, North Carolina (Pineville-Matthews) location has brought back a replica of Munch Jr. The mechanism inside is a replica of the original mechanism. Along with the mask too.