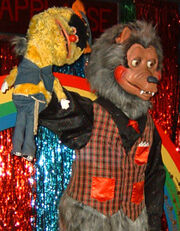 Rolfe DeWolfe is a vocalist and resident comedian for The Rock-afire Explosion at ShowBiz Pizza Place. On stage left, Rolfe is paired with his puppet sidekick, Earl Schmerle. He has a rivalry with pianist Fatz Geronimo.
History
[
]
The character that became Rolfe DeWolfe began as Colonel Stonewall J. Fox, a banjo-playing fox that was part of The Confederate Critter Show.
The next early version of Rolfe was named "The Wolfman", a parody of Wolfman Jack, and the lead vocalist of the Wolf Pack 5. For the Rock-afire Explosion, the character was given a sidekick (Earl) and a goofy personality, therefore creating Rolfe. Rolfe and Earl were initially given short comedic skits in between songs, and did not perform with the remainder of the band. Rolfe often got into fights with Fatz. Gradually, Rolfe and Earl were given parts in songs. Towards the end of the ShowBiz era, Rolfe and Earl often did background vocals, or small roles, as the focus grew on the rest of the band.
Originally, Rolfe and Earl were not meant to be a permanent part of the band and would periodically be replaced on their stage by guest characters, such as Uncle Klunk, Santa Claus, and the Statue of Liberty.
In 1987, at three Showbiz test locations, he was retrofitted into Yogi Bear and placed on Billy Bob's stage.
Concept Unification
[
]
During Concept Unification, which occurred at most ShowBiz Pizza locations between 1990 and 1992, Rolfe's animatronic was retrofitted to become Chuck E. Cheese.
It should be noted, however, that during concept unification, Rolfe and Earl performed the last official Showbiz Pizza show known as The Rolfe and Earle Show. During the show, both characters were voiced by ShowBiz employees.
Another thing that should be noted is that the brown eyes that were in Rolfe's animatronics were exchanged with the blue eyes in Beach Bear's animatronics, giving Jasper brown eyes and giving Chuck E. blue eyes.
It should also be noted, that on the Prototype Concept Unification Stage, Rolfe's animatronic was removed completely, along with Earl.