| | |
| --- | --- |
| | This article is need of cleanup. You can help out ShowBiz Pizza Wiki by reorganizing parts of the article, checking grammar and spelling, adding citations, removing unverifiable material, etc. to improve the article. |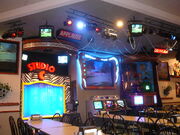 After the Awesome Adventure Machine was deemed too delicate and expensive to mass produce, CEC Entertainment came up with the much cheaper "Studio C" concept. It is a one character, one stage animatronic show. At this time in CEC history, they wanted to phase out the rest of the characters. When Jeremy Blaido took over Department 18 as Director of Entertainment in August 1998, he started making shows with bigger roles for the other characters.
The Stages
Edit
Studio C Alpha gave the showroom a movie-studio style look with TVs, cameras, and lights. The stage itself had a "late night show" look, with a cityscape background behind the Chuck E. Cheese animatronic. There were colored lights scattered about the ceiling in the showroom. There is a big "Applause" sign and a big "On The Air" sign. The "live" video camera shoots people standing in front of the blue screen, and displays them on the overhead TVs. In a few locations, a karaoke option was tested to go along with the blue screen area called Chuck E's Star Search, but the concept failed in 2001.
Technical Information
Edit
The showtapes for Studio C originally ran with laserdiscs. In 1999, these were upgraded to a DVD system. Each DVD contains video footage, and animatronic programming. To run a new show, the store is sent a software upgrade floppy disk along with the DVDs.
There is a touch screen panel where live shows, diagnostics, birthday shows, etc. can be programmed. When starting up Studio C in the morning, it asks the employee to type in birthday kids' names so during the birthday shows, the kids' names will flash on the screen. Diagnostics can be selected from the panel, and there is also a password feature. The cast member password allows programming of live shows, birthday breaks, and birthday shows.
In the early 2010s, various upgrades have been made to Studio C Alpha such as replacing the Interactive Console with a CEC panel and flashing lights, as well as upgrading showtapes from DVD and floppy disks to a single flash drive containing all show elements. In mid-2013, many Chuck E. Cheese locations removed the cameras from the Blue Screen for all types of Studio C setups. Many Studio C locations now have the Ticket Blaster standing in front of the Blue Screen.
Studio C Beta replaced Alpha in 2001.
There are four ways to test the character movements and lights: The Tech Term, the panel underneath Chuck E, the show diagnostics, and the touch screen panel.
The Studio C character and elements were created by Garner-Holt.