The
Studio C Alpha Beta Mix
is a combination of the
Studio C Beta
with
Studio C Alpha
that operated at seven
Chuck E. Cheese's
restaurants.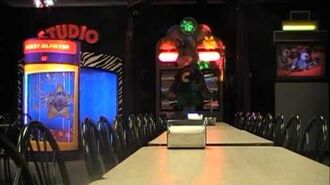 This Studio C stage was first tested at the Athens, Georgia, Midland, Texas and Brownsville, Texas restaurants in May 2000. This stage had a one year testing period before Studio C Beta rolled out in 2001.
As of 2016, there are only six known stages of this type in existence[1]. They are located in:
Athens, Georgia
Midland, Texas
Brownsville, Texas
Tyler, Texas
Clarksville, Tennessee
Jeddah "Kurnaysh", Saudi Arabia
The Stage
Edit
It has Chuck E. Cheese, his companion Bird, the clock, and the background looks like the top of a grill and a curve with different lights like the panels of Studio C Alpha and not including Bird. Everything else is from Studio C Beta. There is also an applause sign similar to the one used by Rolfe DeWolfe from The Rock-afire Explosion.