Studio C Cappa
is a
Studio C
stage that was introduced in 2003, and was installed in smaller
Chuck E. Cheese
locations. It is a downsized and cheaper version of "
Studio C Beta
".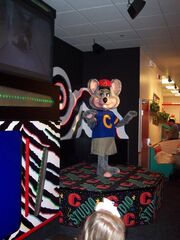 A prototype of the stage known as the Gamma Stage was tested at the Joplin, Missouri location in 2003.
The stage remained in use until the Circles of Light stage was introduced in 2012.
About The Stage
Edit
This stage features three TV screens and underneath them is a small Chuck E. Cheese sign. Below that is a wide blue screen. The stage has the cheaper 16-movement Chuck E. Cheese animatronic. There are no curtains, as curtains were discontinued at around this point in time. There are very few lights, and most locations with this stage have Chuck E. Cheese wearing a red hat, a blue shirt with a yellow C, and gray khaki pants.