The Beagles are a group of dogs that played in the Cabaret side dining rooms at Chuck E. Cheese's during its Pizza Time Theatre days. They would sing The Beatles songs, using the original Beatles recordings. The Beagles from left to right are George, Paul, Ringo and John. Before each song they would tell a fact about the band or a fact on a member.
Ringo (the drummer) was sometimes referred as "The Smart Beagle".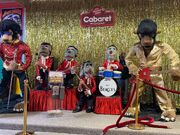 Only four Beagles shows are known to still survive; one is on public display at the Volo Auto Museum in Volo, Illinois. Another one is at Smitty's Super Service Station. The other show exists in Logan Arcade in Chicago, Illinois (originally from Benson's Wild Animal Farm in Hudson, New Hampshire), but they were retrofitted into The Biscuits, a parody band of The Misfits. The final show is owned by JoJo King, a CEC collector and YouTuber.
Video of Beagles show at Volo Auto Museum