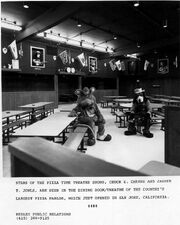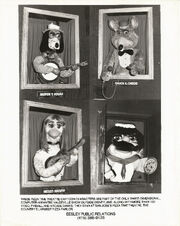 The Shelf, also known as the Portrait Show or the Portrait Stage, is the original animatronic show format at Pizza Time Theatre restaurants.
The stage debuted in 1977 at the restaurant in San Jose, California. It gained the nickname "Portrait Show" because the characters (except for Pasqually and later Munch) were behind 4 foot tall picture frames. The version of the shelf that appeared at the first Pizza Time Theatre was called "1st Gen". The characters (especially Chuck E) looked very different from how they would later look. Crusty the Cat, Chuck and Jasper were fixed on flat surfaces, with movable arms, mouths, and eyes. Pasqually was behind a set of closed doors and would pop out to call pizza orders. This was quickly stopped. In the center of the showroom, sitting on a raised platform were the Warblettes. Jasper even originally played a real banjo but this was quickly dropped because it would damage Jasper's arm and body along with the banjo itself. When the second Pizza Time Theatre opened, changes were made to the Shelf. Crusty, Chuck E and Jasper were made 3D. The Warblettes were either put in a frame or replaced by The Mopsey Sisters, who were three singing mops. In October 1978, Crusty was retired and replaced by Mr. Munch. Munch was placed behind two closed doors like Pasqually.
The shelf would be replaced by the balcony show between 1980 and 1981.
The last shelf remained in the Ogden, Utah location until it closed in 1991. However, it had balcony animatronics instead of portrait animatronics[1] .
Community content is available under
CC-BY-SA
unless otherwise noted.