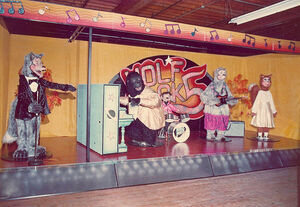 The Wolf Pack 5 is an animatronic stage show produced by Creative Engineering in 1979. It, along with The Hard Luck Bears, was a predecessor show to The Rock-afire Explosion.
History
[
]
The Wolf Pack 5 was inspired by a live performance of The Rocky Horror Picture Show that Aaron Fechter watched in London. The first show was installed at the 1979 International Association of Amusement Parks and Attractions convention in Atlanta, Georgia.[1]
The show was installed at the following loccations:
A Man and His World (Currently Six Flags La Ronde) in Montreal, Quebec, Canada.
Pyramid Place in Niagara Falls, Toronto, Ontario, Canada.
Kings Dominion in Doswell, Virginia.
A show in a Japanese theme park.
Italpark in Buenos Aires.
Beto Carrero World in Santa Catarina, Brazil.
Fame City in Houston, Texas.
A traveling show in Europe.
The first ShowBiz Pizza Place in Kansas City, Missouri also utilized this show as the Rock-afire Explosion was not completed yet. It was later replaced by the latter show shortly after it was released.
Characters
[
]
Stage
[
]
The Wolf Pack 5 has two stages. The Wolfman with his microphone was on stage right, while the remaining four members of the band were on stage left. Both stages can be combined as one depending on circumstances.
Variations
[
]
When the Wolf Pack 5 was installed at the first ShowBiz Pizza Place restaurant in Kansas City, Missouri in 1980, by the request of Showbiz, Queenie the Fox was changed into a mouse and was renamed Mini Mozzarella.
How It Influenced The Rock-aFire
[
]
The Wolf Pack 5 was the genesis of what would later become center stage and stage right of The Rock-afire Explosion. The Wolfman became Rolfe DeWolfe, Fats Gorilla became Fatz Geronimo, Dingo Starr became Dook LaRue, Beach Bear remained unchanged name-wise, and Mini Mozzarella became Mitzi Mozzarella.
Restoration & Current Fate
[
]
In 2015 the Wolfpack 5 was planned to be restored by Aaron Fechter and sent to Funtown Mountain. New masks were made for most of the characters (except for Fats and Dingo) as the original 1980 cosmetics were deteriorating. Due to some complications with the owner (Will Russell), Aaron is keeping them until a customer wants them. They currently sit in Creative Engineering, where they can be viewed by any visitor.
Trivia
[
]
Queenie's voice has a fancier, more professional tone in different varieties of keys compared to Mini's high pitched-sounding voice. This was revealed when the 1979 and 1980 IAAPA Showtapes for the Wolf Pack 5 were discovered in February 2020. Queenie's voice was supplied by a (currently unknown) female Creative Engineering employee, while Aaron Fetcher voiced her replacement Mini Mozzarella.
Aaron Fechter was hesitant about changing Queenie to a mouse, as he claimed that the Showbiz executives were debating with him to have a mouse character to promote pizza because mice are stereotyped to like cheese. Aaron explained that Chuck E. Cheese was already using a mouse (or rat in this case) as a mascot for pizza and he wanted to do his own unique variety of animals different to Pizza Time's. Eventually, he did change Queenie out for Mini (albeit reluctantly).
In 1980, the instrumentation and intro of the Wolf Pack 5 was changed and updated with new music by a group named "Clutch" (in no way related to the hard rock band with the same name), which was a band that helped inceptionize the Rock-afire with Aaron Fechter.

With this update, most of the dialogue between all songs was cut.

The announcer in the Entertainment 1980 Intro is voiced by Aaron Fechter using his future Rolfe DeWolfe voice. Additionally, the voice Aaron uses for the Wolfman is similar to his Earl Schmerle voice but sounding closer to Wolfman Jack.
A hybrid Wolf Pack 5 show, known as The Gaslight Jamboree has recently been uncovered and is currently undergoing restoration as of June 2020.
Japan's Wolf Pack 5 was the same show used at IAAPA.
For the Italpark location, the characters had different names: The Wolfman was called Wolf, Fats was called Kingo Congo, Dingo was called Bingo, Beach Bear was called Max, and Queenie was called Reina. How long this show was at the park is unknown. The show could be seen in a musical number from an episode of the TV program Pepe Payaso y Ratontito that was filmed in Italpark.
The stage at the first ShowBiz Pizza Place is reminiscent of CEC's 2-Stage, as the Wolfman is isolated while the rest of the band is together.
Contrary to popular belief, Dingo was not voiced by Duke Chauppetta, but by a member of Clutch.
Contrary to popular belief, the Wolf Pack 5 debuted in 1979, not 1978.
A clip of the Kings Dominion show was seen in a 1981 episode of the children's series Romper Room.
Gallery
[
]
References
[
]
External links
[
]