Jurassic World: Dominion Dominates Fandom Wikis - The Loop
Play Sound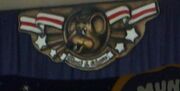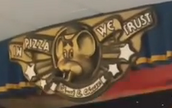 The Wink is referred to as the animated movement of Chuck E. Cheese's left eye in the signs on the valence above the 1-Stage, 2-Stage, 3-Stage, and Road Stage shows. It has been produced for CEC stores between the years of 1989 and 1998, when Cyberamic production was discontinued.
Description
[
]
They contain an image of Chuck E. Cheese, and originally contained the phrase, "In Pizza We Trust" on the 3-Stage and Road Stage Wink. During the late 1990s and early 2000s, it was pasted over by red and white ribbons that covered up the entire phrase. These ribbons were already present in Winks made for the 2-Stage and 1-Stage, which were mass produced since 1992. Mechanically, the Wink uses the old airlines that were formerly used by the Rock-Afire Explosion character, Antioch, on the 3-Stage installations.
Colored Variation
[
]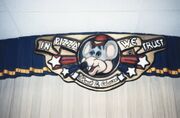 Four Winks at four Chuck E. Cheese 3-Stage locations were completely painted over in the mid 1990s. This version was in Mobile, Huntsville, and Birmingham (Roebuck), Alabama; as well as the Madison, Tennessee location. The "colored Wink", as it is called, is still in the Huntsville and Madison stores today, as Roebuck was closed in 2007 and Mobile received the CEC 2.0. remodel in 2019. The last one was removed during the CEC 2.0. remodel at the Madison location in 2022.
Jingle
[
]
In the early 90s, the Wink played different jingles while it winked. However, starting with the Spring Break Show in 1994, no jingle accompanied the Wink at the end of showtapes, which was the case for many years with the exceptions of the May 2011 show, and 40 Years of Fun shows in 2017. There have been a total of five different jingles created for the Wink between 1989 and 1994 with no new jingles created since then.
Absence
[
]
Some locations that have either a 3-Stage or a Cyberamic Munch's Make Believe Band don't have Winks. It is unknown why this is possible, but it could be speculated that they either weren't supplied with one in the past during installation or if it was removed in later years.
On the CU 1-Stage, the Wink is one of the many 3-Stage props that were not present on this conversion. In its place on a small black wall valance, there is text that reads "Chuck E.'s Make Believe Band," which is written on.